Available Now:

X16 Digital Key Telephone System
:

The world's most advanced PABX - includes Voice Mail and much more - 4-Phones to one pair.


4 CO Lines ( total 6 Lines with optional expansion)
2-Line Expansion Module for CO or VoIP (Option)
16 Extensions
Auto Attendant System
4-Port Voice Mail System
Caller ID
Music on Hold
2 Conference Circuits
User-friendly telephone
Navigation Key
Easy Installation
System Programming by Phone
Call Hold, Transfer, Forward, Waiting, 3-way Conference

...(and much more)


The 416/616 SBCS is a full featured, multi-line business phone system ideally suitable for home or small office use.

The 416/616 (X16) provides a powerful level of communication sophistication, and efficiency.

It is designed to receive up to 6 regular telephone lines (PSTN). Alternately, 2 of the optional line circuits can be used for Voice ver IP (VoIP) connection.

With sophisticated design, it can support versatile features that deliver high performance and outstanding capability; up to 16 full-function digital key telephones can be connected to the system more easily than in any other application making the 416/616 SBCS the perfect SOHO, SMB, and SME communications solution.
---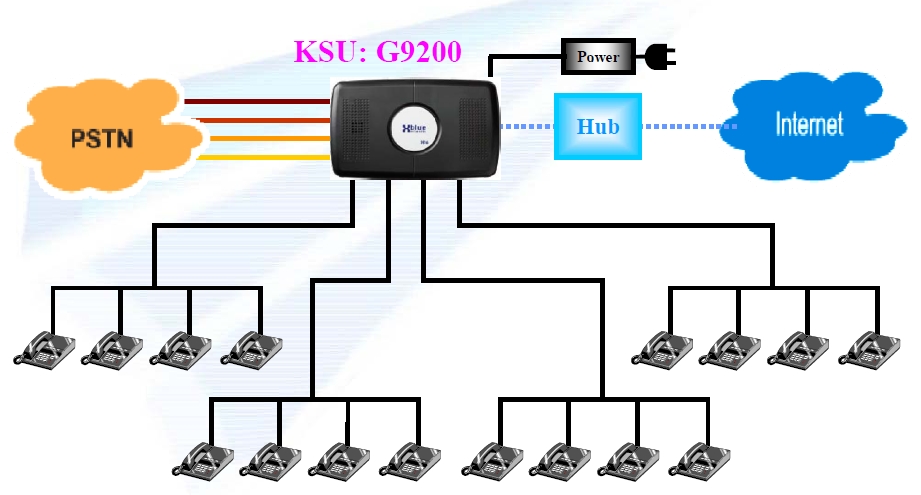 ---
I/O ports for KSU:
- 4 PSTN Ports : L1/L2, L2, L3/L4, L4
- 4 Digital Ports for 16 Phones
- Expansion Board
- Option 1 for 2 PSTN Ports (L5/L6, L6) or
- Option 2 for 2-Line VoIP - 1 Music Port ( Music on Hold )
- 1 PFT Port (PSTN 1)
- Reset button for factory default setting

I/O ports for Phone:
- Headset Jack (2.5mm) & Handset Jack - RJ 11 to KSU

Voice Handling:
- Distinctive ringing and programmable tone/ring support
- Enhanced voice quality setting for handset, headset and hands-free

Keys (46 keys):
- 6 CO line Keys w/ dual color (Green & Blue) LED
- 3 Funcation Keys (Phone Book, Caller ID, Program)
- 12 Programmiable Feature Keys (w/LED)
- Speaker (w/ LED), Mute(w/ LED)
- Redial, Hold, Feature, Transfer, Delete, Conference Dialing methods
- Redial, Mute, Call log, Phone book, speed dial
- 4-Line or 6-Line dialing
Physical Spec ( KSU, Phone)
- Power Supply of KSU: 30 V, 2 A switching power adapter
- Operating Temperature: 00C to 400C
- Operating Humidity: 10% to 90% (non-condensing)
- Dimension (KSU ): 340.3 x 208.3 x 48.8 mm3
- Dimension (Phone): 214 x 192 x 64 mm3 Phone Features
- Trilingual Display
- 2 * 16 Characters LCD with Blue Backlight
- Programmable Feature Keys
- Voice Mail
- Individual Mail Box and Greeting
- Caller ID Data Base (50 Records)
- Phone Book (50 Records)
- Speed Dial Key for Intercom/CO Call
- 3-Way Conference
- Speakerphone
- Easy Transfer
- Auto Hold/Hold Release
- Mute/Flash/Pause/Redial
- Call Forward
- Do Not Disturb
- Digital Ringer/Voice Volume Control
- Ringer On/Off
- Feature Programming

---
Call Rod now: 0418 874 371



Call or email for details: Contact Us